Podcast: Play in new window | Download
Subscribe: Apple Podcasts | RSS | More
If you're a marketer struggling to get funding for digital techniques, there are six steps to getting organizational buy-in.
Educate Yourself.
Educate the Company.
Evangelize.
Gain Advocates.
Celebrate Successes.
Start Small.
This week we're joined by Malika Waller: Digital Marketing Manager of Landis+Gyr. The company focuses on energy measurement solutions for utilities, and especially on "enabling the smart grid of the future."
Malika told us just how she got the organizational buy-in she needed to turn her company's digital marketing from zero to 100mph. Spoiler alert: it took hard work.
1. EDUCATE YOURSELF
When Malika first came onboard at Landis+Gyr two years ago, the marketing was very siloed – more by product than by skill set. Now, as they've evolved, the teams vary according to their tasks (pr, events, digital outreach, social media, etc.) and do so for all of the different products they offer.
Two years ago, the company had no digital strategy…but they did know they needed one.
So they looked for an expert, which is why they brought in Malika. Her role morphed as their digital value grew. One of her biggest challenges was the fact that though Landis+Gyr was a utilities-based company, they were also relevant in other fields like software.
Fortunately, thanks to her education in marketing, Malika was able to recognize what they needed to improve upon.
The company had a website and an email newsletter, but there was no nurturing or measurement of engagement. The potential for data was there…it just needed to be utilized.
2. EDUCATE YOUR COMPANY
Trying to wedge oneself in the door of digital marketing takes a lot of education. Out of habit, people tend of fall back on what they know. In the case of the aging utilities industry, what they know is traditional marketing.
One of the first things Malika did to push her company towards digital and win organizational buy-in was present the management team with hard facts, numbers, and data.
"Educating people on what digital is, in the context of the business and why that would be relevant to them, was really important."
A big aid in this conquest was a Martech 2017 infographic about the rapid growth of digital marketing.
Just like marketers need to speak the language of prospects, Malika had to speak the language of engineering-minded, industrial executives. To this day, she holds a monthly meeting to show the companies their latest marketing data, what it means, and where marketing will likely go from there.
3. EVANGELIZE
Malika didn't just stop with her executives, either. She took every opportunity she could to speak with her peers about digital marketing.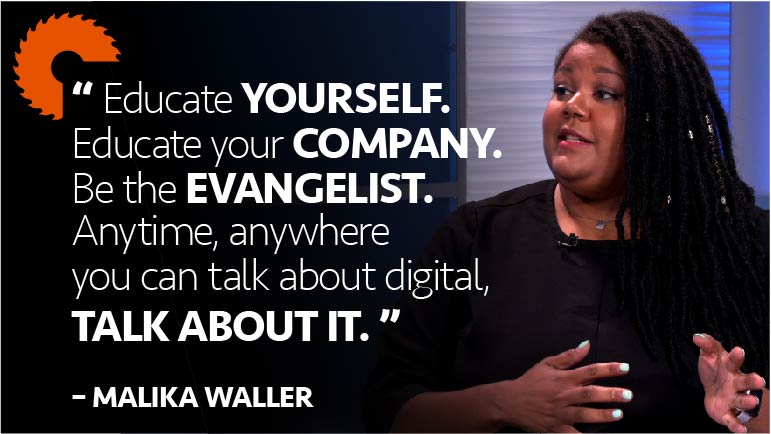 "Educate yourself. Educate your company. Be the evangelist. Anytime, anywhere you can talk about digital, talk about it."
It wasn't about making a sales pitch. It was genuinely being excited about something new in her field.
Marketers should be able to (and want to) gush about their work to anyone who's listening. It should be natural, but also intentional. Let your coworkers know where you are, and what baby steps the company is taking at present to adapt.
Any movement forward is better than none. Movement is where momentum comes from.
4. GAIN ADVOCATES
Once you start educating others, that makes organizational buy-in a lot easier if you're starting with a marketing team that don't yet have the skill sets they need to handle new technologies. If imparting marketing information is already second-nature to you, educating them will be a cinch.
The more you naturally gush about new marketing technologies, the more you'll find and build a network of coworkers who believe in the value of those technologies.
Marketing is considered a major spend nowadays. If you want to convince upper management to investigate new techniques, it can be a huge advantage to have more than one person at the table who's supporting your claims.
"Gain some advocates. If you have an advocate who can speak on your behalf in those meetings, getting budget is a little bit easier."
5. CELEBRATE SUCCESSES
Adapting to digital is sometimes difficult because it's not yet well-understood. If you're not setting expectations or letting people know what's worth getting excited about, they'll assume nothing good is coming of their investment.
"Take time to celebrate whatever little or big success you have…and show results."
For Malika, she recommends waiting 6 months or so after launching digital techniques. That's when the data generally starts to show blips on the radar. After that, it's all about building longevity.
Talk about success when it happens so that the higher-ups will let you continue exploring.
6. START SMALL
The first technique that Landis+Gyr dipped their toes into was creating landing pages for events they visited. They didn't try to start something huge and automated. They just "piggybacked" on their traditional techniques to start.
Instead of paper flyers to follow up after an event, they sent out links to a single page with more information.
For one thing, the launch helped to build their web presence. It was also a great resource for customers who were curious about Landis+Gyr, but unable to investigate during normal business hours.
The website saw great upticks in traffic, and the sales department also loved being able to refer buyers to those pages.
Once Landis+Gyr started to realize that digital marketing was going to be a worthwhile effort, one of their first tasks was to overhaul their own website without overwhelming themselves. Their content and press-releases weren't very easy to find, and the navigation itself wasn't intuitive. Soon Malika figured out why.
The site was very terminology-heavy, using "internal speak" that was native to the sales team or the industry experts, yet not to the buyers.
Malika and her team started using BrightEdge to find out the terms their personas were likely searching for, as well as what similar websites were doing to improve their own strategies.
"Changing the language was huge."
Landis+Gyr customers may not always search for the terms "smart meter," "smart meter tech," or "smart meter analytics," for example. That's why it was important to change. Those words were something that the company could (and still can) continuously refine and improve.
AFTER THAT…JUST KEEP BUILDING.
Another tool that "doubled the marketing department without adding actual people," was Hubspot. Both programs helped the company change their online presence enormously, without necessarily needing to create anything strictly new.
Their webpages and content started showing up and solving customer problems faster, once they edited the copy to include relevant words and phrases.
The key to gaining organizational buy-in, Malika maintains, was working with what the company already had…then simply asking, "How can we make this better?"
Now Landis+Gyr is building a social media presence and is growing their brand with pay-per-click as well. This way they can show their customers by example that their services are "future-proof," as Malika puts it.
It's all to achieve every marketer's number-one goal: getting on Page 1 in Google Search.
And it is possible. Because – as her Twitter handle says – @Malikadidit.
Thanks for reading. Don't forget to subscribe to our newsletter to get each of our weekly episodes sent directly to your inbox! You can also subscribe wherever you download podcasts so you can listen on the go!
If there's a particular topic that you'd like for us to talk about, or if you have a particular a challenge that you'd like us to take a crack at, send us an email. We'd be happy to answer them for you. If your topic gets picked for a future episode, you'll win a free IndustrialSage t-shirt!