Podcast: Play in new window | Download
Subscribe: Apple Podcasts | RSS | More
This week's interview is a real treat! We got to sit down with Sangram Vajre and ask him about the ups, downs, do's, and don'ts of account-based marketing for b2b manufacturers.
Sangram's name is definitely one we've thrown around on the show before. He's the Chief Evangelist and Co-Founder of the account-based marketing platform Terminus. He's also host of the daily FlipMyFunnel podcast.
Having started his career at Pardot, Sangram saw his company expand and get acquired not once, but twice within six months! The first acquisition was by ExactTarget; the second, by Salesforce.
Needless to say, Sangram's had a lot of firsthand experience with scaling businesses…something that account-based marketing definitely fuels.
1. WHAT IS ACCOUNT-BASED MARKETING?
It's hard to think of anyone better to answer this question.
Sangram quite literally wrote the book on account-based marketing. As in, he published the very first book on the subject.
And Terminus, of course, was founded with 'ABM' as it central purpose.
"Really, Terminus is an account-based platform that helps marketers and companies get in front of the right accounts they want to sell. And 'Flip My Funnel' is a community that we built around this problem. Not talking about the product, but the problem."
We talk all the time on this show about aligning sales and marketing teams. That's the foundation of account-based marketing…but how does it actually work?
"In definition, account-based marketing is really: how do I get focused on the list of accounts between marketing and sales, and do everything I know how to do in marketing for those accounts?
"As marketers, say, 'How can we make this content available for the accounts that our sales teams want to close? That's account-based marketing."
Recognizing the blood sweat and tears of the sales team is something that Sangram, as a marketer, emphasizes often.
He posted a video recently on LinkedIn about how most marketers have never been punched in the face like sales reps. In short, marketers receive a budget no matter what– but they don't know the stress of sales reps who work on commission. Sales reps have to deal with dead end leads, being ignored by prospects, and they don't have the luxury of expecting a paycheck afterwards no matter what.
Marketers need to appreciate everything the sales team works to accomplish. It's especially important also because a marketing team's success is directly link to the success of their sales teams.
"When sales go down, marketing budget is cut. It's a mindset the marketing team must recognize."
Only once this relationship is understood can solid ABM really begin. So, once you're ready…what next?
2. WHERE DO YOU START WITH ACCOUNT-BASED MARKETING?
Find a few sales reps that you have a good relationship with. You can't change the entire organization overnight, but you can get some members of the sales teams in your corner really, really quickly.
"Start with a couple sales reps and say, 'Tell me, who are your top ten accounts that you're trying to close this month?' Create content really just for those ten accounts. See what happens."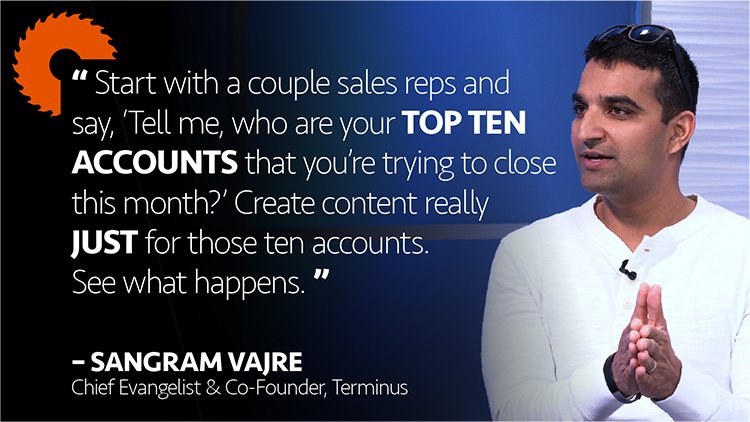 If your marketing creates any engagement at all, those sales reps are going to notice…and they're going to be hooked.
The process isn't foolproof, of course. There will still be a bit of trial and error. But, once you get into a rhythm, then you can expand your new system of ABM around the office.
"Most organizations put marketing in a demand-gen box… Account-based marketing helps marketers to really go beyond the demand generation box and get into more of the business outcomes."
Account-based marketing also provides an opportunity to examine one's own brand. Where is your brand right now? More importantly, where do you want it to go from here?
Sangram discussed this recently in an interview with Tim Kopp, CMO of ExactTarget, in episode 124 of the FlipMyFunnel podcast.
"Brand drives demand," he explained to us. A CMO must build their company's brand to drive demand– and account-based marketing helps to build that brand. But, to do so, a CMO must earn the buy-in of his or her entire organization.
"The biggest thing a CMO needs to do is build trust with not only the sales team, but also the product team.
"The best way to build trust is to over-communicate on, 'Here are the things we're doing – and, more importantly, here are the things we are not doing.'
"Sharing openly and transparently what I'm doing and not doing [and why] is so important. "
Earning the support of everyone, from the still-green sales rep to the company CEO, can help pave the way for ABM within your business. But, for industrial companies who sell through distributors or other third parties, the challenge can feel somewhat daunting.
3. HOW DO YOU EMPLOY ABM IN A B2B BUSINESS WITH VARIED PERSONAS?
If you're a manufacturer trying to sell to distributors and to end users and everywhere in-between, how can you really use account-based marketing? Or is it even feasible?
Sangram has seen companies ask this same question, and he has good news! To an extent, ABM is already happening within your organization.
Your sales team is already handling all those varied accounts; that's their job. Even though the personas might vary, you still can team up with the sales reps to help give them the "air support" they need to close deals.
In fact, the more you can align your entire organization into pursuing the top five, ten, or fifty particular accounts…the more streamlined and effective everything will be.
However, outside of the sales teams, not many marketers or product developers know which companies or prospects are actually being actively pursued by their sales reps.
"Everyone feels like, 'The whole world is my customer,' but you're not selling a Nike shoe. You're selling a very specific, high-value product. Go and find out what your total addressable market really looks like. Once you know that, figure out who you want to go after."
The name of the game, in short, is personalization.
ABM is all about how you as a marketer can inspire everybody in your company to create and use resources that will be valuable to your top prospects.
Some marketing tactics may aim for large groups of potential leads. However, account-based marketing is all about lining up a mere handful of very specific targets in your sights. Sales 'sniping,' if you will.
ABM can help your account managers to close deals. It can also help you build trust between sales and marketing in your organizations.
What do you do to build trust with your sales team?
Thanks for reading. Don't forget to subscribe to our weekly newsletter to get every new episode, blog article, and content offer sent directly to your inbox. You can also subscribe wherever you download podcasts so you can listen on the go!
If there's a particular topic that you'd like for us to talk about, or if you have a particular a challenge that you'd like us to take a crack at, send us an email. We'd be happy to answer them for you – and if your topic gets picked for a future episode, you'll win a free IndustrialSage t-shirt!