Podcast: Play in new window | Download
Subscribe: Apple Podcasts | RSS | More
If you couldn't already tell from the title, this week's episode is all about social media for manufacturers. And wouldn't you know it, we actually found our latest guest, Daniel Loeschen of MXD Process, through social media! We saw the high-quality content that he and MXD were posting on Twitter, and that led us to explore the company website – where chatbots and automation reign supreme.
The MXD Process website is an excellent model of industrial and digital marketing, and excellent use of social media for manufacturers. We wanted to learn how it had come about as such.
1. WHERE DID IT ALL START FOR MXD?
Before their CEO Mark Franco starting MXD Process, he was a chemical engineer for an industrial mixing corporation, where he learned about the industry's lack of marketing and direct-to-customer business.
Franco decided to start what was then called "Mixer Direct," as an online-first, customer-first approach to industrial mixers.
Needless to say, that had never been done before. But since then, the company has grown to deal mainly direct and not just exclusively with distributors in the field of industrial mixers. And while they did send out an initial catalog of their products, they invested most of their time and energy into a website where most of the commerce was meant to happen.
"Invest heavily in a website. I would say 50% of our competitors in 2010 didn't even have a website."
Franco hired an outsourced company handle their site and digital needs like adwords and SEO…but it eventually became clear that this would not be a beneficial arrangement over the long-term.
2. BUILDING A DIGITAL STRATEGY FROM THE INSIDE
Soon it was evident that outside digital agencies weren't very familiar with this niche industry, so MXD created an in-house marketing team.
Daniel came on to help build that team. Over the course of the next few weeks, then months, then years, they worked to enhance the company's online searchability and appearance, as well as social media audiences.
Digital techniques are always evolving, so a lot of digital marketing is trial-and-error.
"We were just out of the gate dominating all our competitors, in online search specifically. That was the first domino to fall…and we did that with online content – a lot of content."
Whether it was photography, videos, or written articles, the MXD team dove right in. They paid attention to what other marketers were using or praising, then tried it for themselves. So far, the only technique they haven't used yet is paid social advertising, but as more platforms become "pay-to-play," even that might change.
3. WHY GET SOCIAL MEDIA FOR MANUFACTURERS?
As they worked, the MXD team made sure to hold to one particular rule that the company had been founded on: customers first. And while the phrase itself sounds like a no-brainer, some companies do struggle with it. But what it means is that your target audience is comprised of, in many cases, average individuals.
Your buyers are most likely scrolling through social media feeds in their spare time, just like everybody else.
As a result, it's important for your company to be present on social media, where you can catch their attention. And while platforms may vary between marketing personas, you might be surprised at where your prospects are congregating.
Are you targeting engineers? What platforms are engineers on? Follow what they follow. Produce the kind of content they like to see.
In some ways, there really is no "B2B," because at the end of the day you're still marketing to people.
"We are selling business-to-business, but it's really B2C. You're still selling to a customer. They're just a different type of customer."
So what's been the best platform for MXD Process specifically? Twitter.
But that doesn't mean they're disregarding other platforms. Their Facebook use has declined slightly as that arena becomes more pay-to-play, but they actually have a jaw-dropping number of Instagram followers.
Even though Instagram isn't their biggest source of leads, it has helped them to build a community and reputation all around the world.
"When we go places, the people that always come up to us that want to meet us and follow us are always people from Instagram, which is really fascinating. I didn't expect that. We built a community of welders, which really helped in finding welders for hire. Because if we don't have welders, we're out of business."
4. HOW ARE THEY MEASURING IT?
Daniel and his team mainly use the marketing platform Hubspot to manage all their social media data in one place, but they keep an eye on Google Analytics, and they do go to the original platforms for some tallies (Twitter's count of retweets, for example, may end up being actually higher than what Hubspot picks up).
The team uses Hubspot to identify and track visitors from social media, then measure their engagement.
"It's a tangible way to track social media… We're not interested in hoping things are working."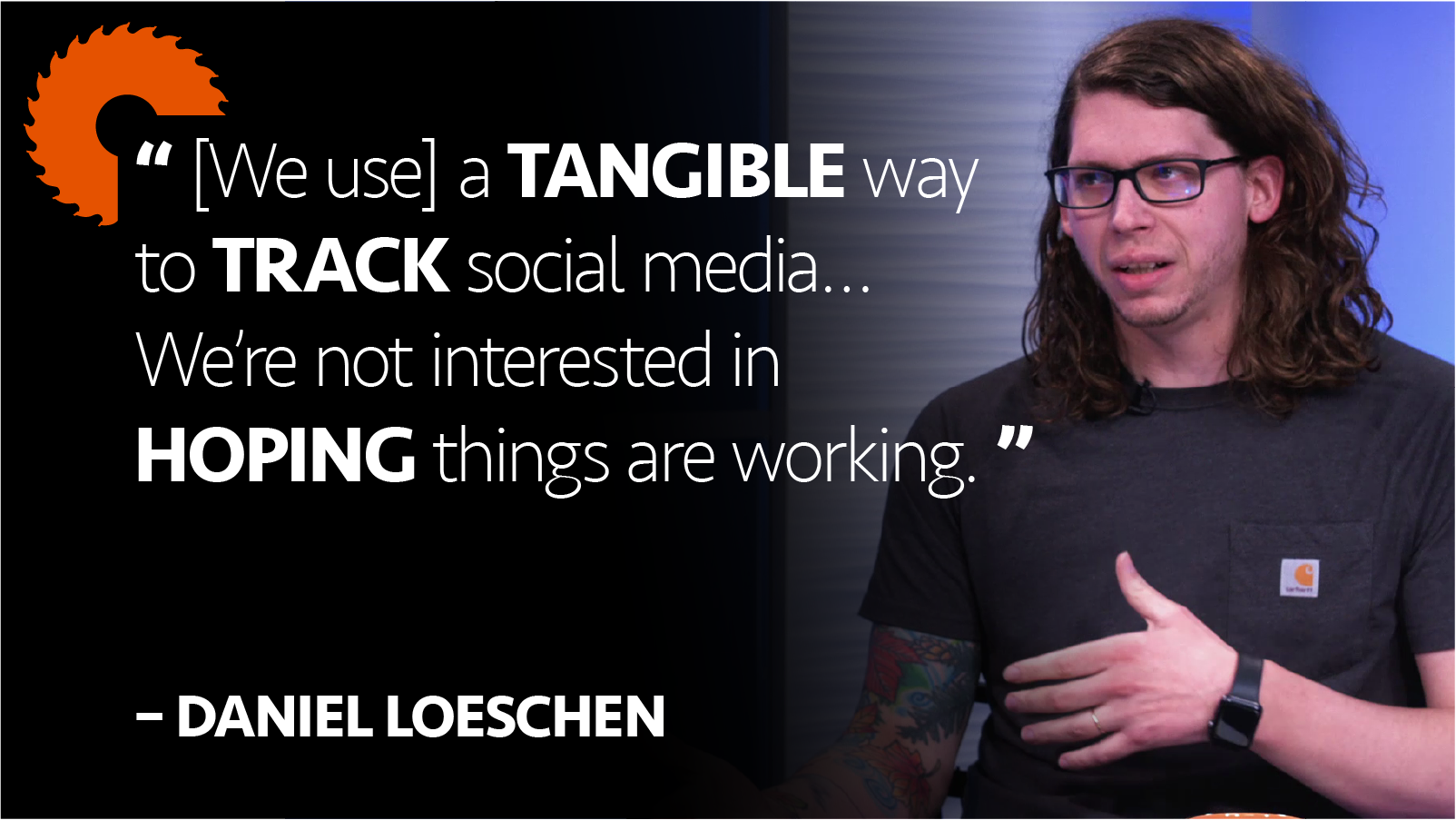 Which platform is sending the most visitors? Which visitors are actually sticking around? Hubspot helps them to find out. They even have special links that they share per platform; that way, anyone who has clicked in directly from, say, Twitter will see a unique phone number on the MXD site; and the MXD staff know that anyone who calls that number found them through Twitter.
Once an individual fills out a form or makes a phone call, that's considered a conversion.
After a lead has converted, they're passed along to the sales team. But the measurement doesn't end there.
The sales team logs the lead source into their CRM, so they can measure how many deals came from each platform.
So Where Can You Start?
Needless to say, it took MXD Process a long time to get to where they are today – now renamed, branched out into three brands, with thousands of followers all over the world. But there's no way to get to your destination if you don't begin the journey and start believing in social media for manufacturers.
Just start by taking a look at what your competitors are doing online…or not doing…and how well those techniques seem to be working for them. And reach out to their customers, too!
"You have to figure out how your stuff is going to stand out and not seem so robotic and corporate, because people just don't want to see that. Even people from corporate companies don't want to see that."
Daniel also recommends the Moz Blog's eBook on the basics of social media marketing, as well as tools like Followerwonk.
And yes, this will take something of a investment, both in time and in money. But it could cost you more in the long run if you don't do it at all.
Task someone dedicated to do a bit of research every day before getting started.
"To get it to the point where you're seeing value from it…is a full-time job. If your company's at a point where that's not practical for you, that's fine. But don't pretend to do it."
And even though hiring an outside agency may feel more convenient, in the end you know your industry and your clients better than they do; so you may want to eventually bring the endeavor in-house.
"If you want to treat [social media for manufacturers] as a legitimate channel that's going to drive leads, I think the time commitment is a full-time job…You have to engage. If you're not, don't do it."
Thanks for reading. Don't forget to subscribe to our newsletter to get each of our weekly episodes sent directly to your inbox; or subscribe wherever you download podcasts so you can listen on the go!
If there's a particular topic that you'd like for us to talk about, or if you have a particular a challenge that you'd like us to take a crack at, send us an email. We'd be happy to answer them for you – and if your topic gets picked for a future episode, you'll win a free IndustrialSage t-shirt!