Nothing gets me thinking about geofencing and geotargeting like a trade show does.
That's why when I came back from the AHR Expo here in Atlanta at the Georgia World Congress Center, I noticed right away that a few of the ads on my on social profiles had probably been the result of some companies who knew they ought to invest in geofencing at trade shows.
WHAT IS GEOFENCING? AND GEOTARGETING?
Geofencing is the act of selecting a specific area (such as a particular conference center, and maybe its surrounding restaurants and hotels as well) to send your online ads.
Investing in a geofencing spend during a specific event will get you in front of anybody in that area, and even after they head home you can still post content that you hope might be relevant.
That means your videos on Facebook might be 'shared' on the timeline they're skimming; or your sponsored posts may appear in their LinkedIn feed.
Geotargeting is similar, but even more specialized: you can send ads to certain people within the area you've chosen, but only if those people meet specific criteria.
If you're using geotargeting at a manufacturing trade show then you may have a specific ad aimed at company CTOs, for example. You might make their job title on LinkedIn one of the criteria for your ad.
Geotargeting or geofencing at trade shows can be done on multiple devices, and both tactics have their benefits. Deciding which to use will depend on your budget, as well as the customers you're trying to reach.
A REAL LIFE EXAMPLE
In the video above, you can check out one of the ads that – lo and behold – popped up on my personal Facebook account after I went to AHR Expo.
It looks like Carrier United Technologies used either geofencing or geotargeting at the trade show to share some excellent video ads.
How do I know?
Well, I definitely hadn't been googling their company or browsing their website of late. Yet lo and behold, there was a video about their exhibition at AHR on my timeline!
Video is one of the best ways to attract or educate prospects. The carrier video had already garnered eleven shares by the time I saw it.
I clicked on the link to take a look at Carrier's techniques, and they brought me to a landing page where I could learn more about the new unit they were demonstrating after its unveiling at the expo.
Landing pages are a key part of online advertising (which includes geofencing) because you need a way to collect and measure conversions.
This particular landing page had plenty going for it…but there was also room for improvement.
TIPS FOR LANDING PAGES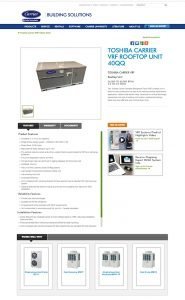 1. ISOLATION FROM DISTRACTIONS
The focus of this page was pretty clearly the newly-unveiled rooftop unit. However, most digital marketing experts like the Hubspot team concur that landing pages probably shouldn't have a full menu or excessive links to other pages. Removing navigation and other distractions will help direct visitors precisely where you want them to go.
2. VISUAL CONTENT
Carrier made good use of one of their video assets by including it, but it wasn't front and center on the page. If you have a video that's relevant to your content, consider making it a more central part of the display for your visitors.
Similarly, they provided a large picture of the unit…but only one
3. EDUCATIONAL CONTENT
The page was chock-full of good-looking copy, with lots of information for any interested parties. Anyone interested in learning about Carrier's new unit definitely wouldn't be disappointed. There were lists of features, warranty information, additional products that might work well with the unit, and more.
However…there wasn't anything to download. And this leads to the most important part of any landing page, which was sadly lacking on this particular page.
4. THE CALL TO ACTION
This particular page may bring visitors to the site, but it doesn't offer them any reward for visiting. There was no form to fill out, which is vital. Carrier could offer interested leads an eBook, or buyer's guide, or spreadsheet comparing the unit to its competition.
The page had some calls to action, but those would all take a visitor to yet another page. There was a button to find an expert, a sidebar call to subscribe to newsletters, and the link to the video. Those are all fairly good to have on a website…but having all three on one form-less landing page may not be necessary.
Even if visitors don't fill out the form, they'll know what it's for (and whom it's for) in case they ever do become interested in learning more about the new Carrier unit someday in the future.
If people come to a highly-specialized landing page to learn about a highly-specialized product, a highly-specific conversion form isn't just recommended: it's expected.
5. GEOFENCING ALLOWS FOR SPECIALIZATION
When I came to the landing page, it was because I had clicked on a sponsored sponsored Facebook ad specifically about the AHR Expo, as well as about the new rooftop unit. The landing page was definitely about the new unit…but there was no further mention of the Expo beyond a link to another page.
Is that a bad thing? Not always…but if and when you ever employ geotargeting or geofencing at a trade show, that's an opportunity to differentiate!
Specialization in a digital campaign can help you make your content ever so slightly more personalized for your visitors. Additionally, it can help you determine the precise ads or social media platforms or trade shows that are bringing in the most bang for your buck.
If you're ever considering using geofencing at trade shows, setting up an optimized landing page is a sure way to generate leads and measure the conversion rates of the campaign you're running during the event.
Why pass up an opportunity like that?
Thanks for reading. Don't forget to subscribe to our newsletter to get every new episode, blog article, and content offer sent directly to your inbox. You can also subscribe wherever you download podcasts so you can listen on the go!
If there's a particular topic that you'd like for us to talk about, or if you have a particular a challenge that you'd like us to take a crack at, send us an email. We'd be happy to answer them for you – and if your topic gets picked for a future episode, you'll win a free IndustrialSage t-shirt!