Podcast: Play in new window | Download
Subscribe: Apple Podcasts | RSS | More
This week we get a real treat!! Monique Elliott, Global Head of Customer Experience for ABB's Electrification Products Business, joined us to chat about every marketer's common struggle: how to get organizational buy-in and prove ROI.
As marketers, we so often feel like we're just shouting into the void.
Sometimes that void is the online world where our customers mysteriously lurk.
Sometimes that void is the ears of our higher-ups.
Either way, it's going to take a lot of effort to not only make an impact, but also know for certain that we're making an impact.
1. LANGUAGE MATTERS
It's incredible how a single phrase can change our perception of things. Take, for example, Monique's job title. A few years ago, or even twelve months ago, her world at work looked very different.
Her title used to be "Chief Marketing Officer," but now she's the "Global Head of Customer Experience."
Changing one phrase may seem small. But it shows everyone the purpose and the focus of her entire department.
Monique's point? A company's mindset about marketing itself may need to be altered in order to make significant progress.
Such a simple move isn't always so significant. However, for manufacturers who still view "marketing" as synonymous with "direct mail and brochures," it can be a huge step.
"If you change the language, then you can start to change the way people think about it."
ABB recently made the change after a recent discovery. By not including customers at the forefront of the marketing process, they realized were doing their leads and buyers a bit of a disservice.
2. RECOGNIZE THE NEW BUYER'S JOURNEY
Is the buyer new, or is the journey new? Yes.
As fast-evolving technologies change the B2C and retail experience for customers, those expectations of digital convenience are going to be brought into B2B purchases by the generations entering the workforce.
"As our distributors or as our customers are buying differently and their behaviors are changing, the manufacturers have to do the same."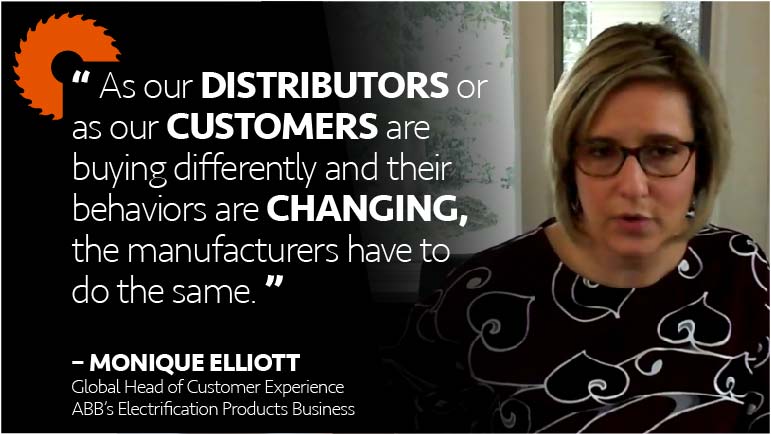 "Finally the generation of the workforce in this industry is catching up to where the retail space is, and it's forcing the manufacturers to change as well."
The biggest change that Monique has seen is in how products (or jobs) are sought and found by buyers.
In the past, a company's salesforce and distributors were the main educators for prospects. But now the internet is.
B2C and Retail recognized and adapted to this change years or even decades ago. However, manufacturers are only just now starting to see the need for digital tactics.
"The purchase may still happen offline, and the relationship still needs to be there, but it's the searching of the product that's changing."
3. BUILD A DIGITAL CUL-DE-SAC
Usually the first wave of digital change made by manufacturers is to start creating email campaigns. After that, the second stage that Monique saw was the creation of digital gated content on a company's website.
The third stage was SEO and online advertising…and now ABB is getting into a fourth stage.
By partnering with other thought leaders in their industry, and contributing content to a shared audience, they can attract customers into a communal 'digital cul-de-sac.'
The leads can be mutually shared and exchanged within this network. As trade magazines print less and go online more, companies can contribute their own content and resources. Together, they share expertise and engage potential buyers.
A lot of early digital marketing used to be aimed at distributors, but now end users are a buyer persona that can (and should) be nurtured as well.
Including multiple potential buyers, be they distributors or end-users, expands your company's reach. And if your solution isn't the right one for them, then connecting that prospect with the right solution provider will strengthen your relationship even if they don't become your customer just yet.
Independent contractors don't always have the resources to build an audience of thousands or millions by themselves. But a community can.
As Monique pointed out, everyone's interactions under this model become more meaningful.
4. YOU CAN'T SELL WITHOUT A GOOD CUSTOMER EXPERIENCE
Most importantly, digital adaptation helps alter company cultures and mindsets that might otherwise be too transactionally-focused.
Yes, sales are absolutely important. But the experience of the customer beforehand comes first, and is just as important.
Manufacturers may not realize that their traditionally-successful sales tactics may now be driving new buyers away.
Today's B2B buyers have enough variety to choose from now that, as much as possible, they select companies or businesses which they find more agreeable. "Agreeable" can often be entirely based on their gut feelings about the experience.
Today's customers don't tolerate solicitors, whether in-person or online, who plough over them.
You could have the most valuable product on the market and the most logical argument for why they should buy. But if a lead feel like you've barged in for the sole reason of making a buck off them, they'll likely refuse to buy solely on principle.
And, as Matthias Konne of Eurokera pointed out to us last year, a major component of your customer's experience is your brand's consistency.
If your trade show booth is huge and electrifying, but your website hasn't been updated since 1998…it leaves a bitter taste. If you're not using the most up-to-date digital technology, how can leads trust that your manufacturing process uses the most up-to-date equipment, for example?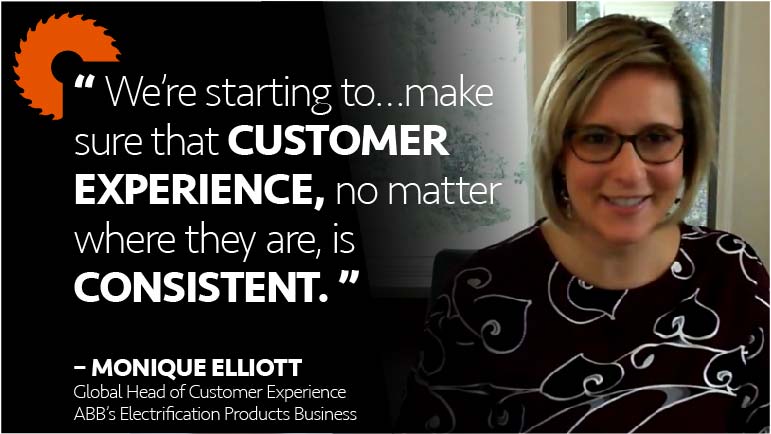 "We're starting to… make sure that customer experience, no matter where they are, is consistent."
5. VALIDATION COMES FROM TRACKING EVERYTHING
Digital marketing is unique because it allows marketers to track what they're doing from start to finish, which has never happened before.
"Marketing is always seen as a cost center," Monique recalled with us. "And it's really hard to get a seat at the table.
"It's a problem marketing often has. You don't want to stop something because you're not sure if it yielded something."
Putting in the effort to tag and track every move made by the marketing department is what will turn the tide.
It's much harder for your higher-ups to discount your work if have verifiable numbers in your corner.
"You can say, 'Let's not do those activities anymore, because they didn't yield anything…' So [measuring digital data] gives you more freedom to be able to stop doing things that really aren't getting the results you want."
You have to have four things to measure your ROI well:
Build Out a Process
Adapt for Automation
Get an Integrated CRM
Have Patience
You need to have a process before you can automate it; and you need the CRM to connect the dots once everything is automated; and most importantly, you need the grit to play the long game.
Monique's Story
For Monique, it took a couple of years to see results. But now she has the "seat a the table" that marketers strive for.
A few years ago, the company leaders were gathering for a big meeting, and Monique wasn't there…but somebody came to her office and told her that they were waiting, because one of the executives refused to begin without the marketing department present.
Monique's visit was extremely encouraging, because her story confirmed the struggle that a lot of marketers are currently encountering (and hoping to overcome as she did).
Tracking marketing activities allows you to say with confidence and credibility, "We spent $4M in marketing activities, but it yielded $22M in orders."
By playing the long game and investing in measurable digital efforts, your marketing will finally will stop being viewed as a cost center, and will be validated at last.
Thanks for reading. Don't forget to subscribe to our newsletter to get each of our weekly episodes sent directly to your inbox. You can also subscribe wherever you download podcasts so you can listen on the go!
If there's a particular topic that you'd like for us to talk about, or if you have a particular a challenge that you'd like us to take a crack at, send us an email. We'd be happy to answer them for you – and if your topic gets picked for a future episode, you'll win a free IndustrialSage t-shirt!