Podcast: Play in new window | Download
Subscribe: Apple Podcasts | RSS | More
This week we were joined via remote interview by Aaron Lichtig, VP of Growth Marketing for a company called Xometry! Having previously worked for Google as well as Proctor & Gamble, Aaron joined this industrial startup that strives to be the "Uber" or "Airbnb" of custom manufacturing.
As it turns out, the digital revolution can actually fundamentally change the way manufacturers do business…and Xometry just happens to be ahead of the curve.
"We've been a digital company from the beginning. Digital is in our DNA. So for us, it's not really a transformation so much as who we are. Digital is our essence. We are a digital manufacturer."
1. CHANGING THE USUAL BUSINESS MODEL
When someone says "manufacturing," the image of large factories and facilities almost always come to mind. However, not all industrial products are produced on a mass-scale.
"When a lot of people think of the manufacturing industry, they think of large factories…producing hundreds of millions of parts…but actually a big chunk of the manufacturing industry in the United States is in custom manufacturing. These are prototypes, these are smaller and medium-sized jobs that are done not necessarily in enormous factories or enormous plant facilities, but in smaller shops."
Many smaller warehouses in the country may employ 20 workers or less. They may not be gigantic tycoons, but they're excellent at what they do. In fact, they're really perfect to hire for smaller or more specialized, on-demand orders– even orders needed by otherwise massive companies.
Unfortunately, "mom and pop shops" can also be so unknown that they might not normally get picked up by large enterprises.
Now, they can take on custom projects with major organizations like Nasa and BMW and others– thanks to Xometry.
"You can think of us as a two-sided network or marketplace, like an Uber or AirBnB, where we're matching a lot of this highly-skilled capacity that's out there with the demand that is out there in the marketplace."
Even though Xometry isn't arguably a custom manufacturer in its own right, it provides access to custom manufacturing on-demand. That's a huge shift from the entire way this industry has functioned in the past.
Xometry receives requests from larger companies, provides a quote for the project, and then introduces a solution through any number of small vendors.
2. MAKING CLIENT LIFE EASIER
One of Xometry's most popular features is their free Instant Quote Engine. Its function is made evident in the name.
For decades, custom manufacturing has always required an engineer to jump through multiple hoops to create a prototype or piece of machinery. They would have to find a shop or facility that could perform the work they needed. They'd have to take or send their design to someone at that facility. The recipient would have to examine the blueprint in detail, then respond with a quote. There would be haggling.
Just manually determining the price and delivery time of one part could take ages! But not anymore.
Now, all an engineer needs is a 3D .CAD file. They can upload it directly to Xometry's Instant Quote Engine and add any specifications, then get a price…well, instantly.
And depending on the project, sometimes the part can be manufactured and delivered in as fast as one day!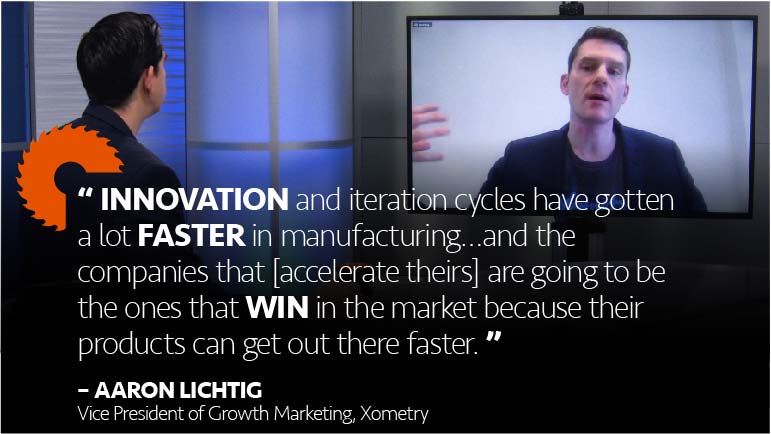 Shortening the pricing process is a win for everyone. From 3D printing and additive manufacturing to CNC machining, urethane casting, injection molding, sheet metal fabrication, and more…everyone appreciates a way to cut down on excess time.
"Innovation and iteration cycles have gotten a lot faster in marketing… and the companies that [accelerate theirs] are going to be the ones that win in the market because their products can get out there faster."
Quotes in the market can vary widely, but Xometry's engine is constantly improving with every new file it examines. The pricing algorithm is constantly overseen and improving, so that quality won't be overlooked for the sake of lower pricing– and vise versa.
"A big theme for us is making our partners as well as our customers able to manufacture more efficiently."
3. THREE BRANCHES OF MARKETING
Xometry's marketing model essentially hinges on the fact that they're working with multiple, very separate kinds of businesses.
On the one hand, they want to bring in large companies who have custom parts to order. On the other hand, they want small shops to become Xometry partners and take on those custom manufacturing jobs. And lastly, they want to retain previous clients and provide the best possible customer service to said customers.
Because Xometry is attempting to reach such vastly-different target personas, the marketing department has essentially split into three branches. These branches focus on growth marketing, partner marketing, and relationship marketing.
Each process has its own set of marketing channels, sales funnels, and even martech.
But regardless of which persona a lead might fit, Aaron's time at Google impressed the importance of one particular practice on him. All of the sales funnels follow the same model.
"We are constantly using a wide variety of tools to bring people in the door, and then move them down the 'see-think-do-care' funnel."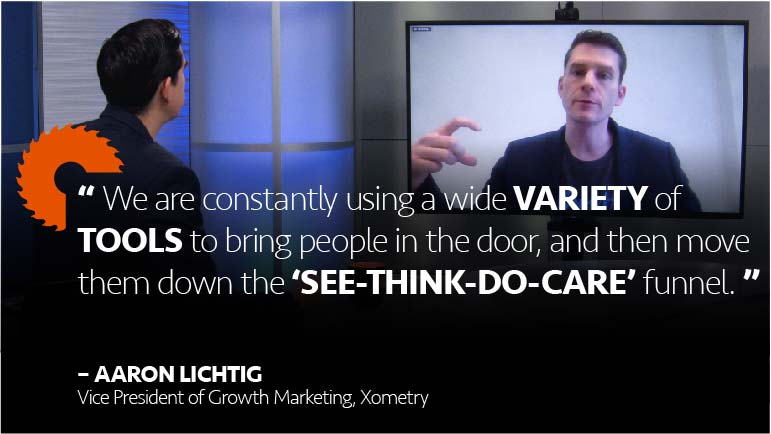 People who have never heard of Xometry will be informed with content from the "See" portion of the funnel. Leads who need persuasion are educated by the "Think" content of the funnel. Once people are in the "Do," stage and are ready to buy, Xometry tries to get in front of them and offer the solution they want. After that, returning customers are in the "Care" portion of the funnel, and Xometry focuses on building and improving the relationship.
Not only is it Xometry's goal to gain more buyers and partners, but also to retain them once they've converted the first time.
4. CONTINUING FORWARD WITH A DIGITAL BUSINESS
Xometry's nowhere near done developing new plans for the future of their company, either. They recently launched "Xometry Supplies." This is an ecommerce storefront that sells aluminium, machine tooling, and eventually other manufacturing materials.
Now their partners can get not only commissions from Xometry, but also supplies as well.
Having adopted a business model based around digital convenience from the get-go, Xometry knew that branching into ecommerce was a no-brainer.
"Being experts in manufacturing is a core part of what we do… but we think about everything we do through the lens of technology."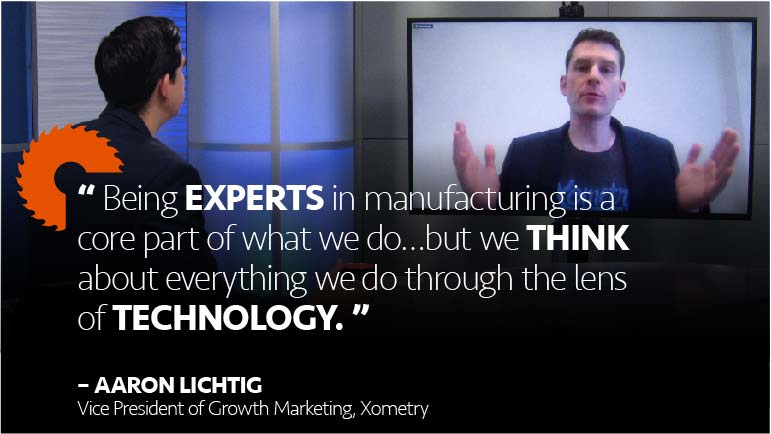 Their goal, like any business, is to grow. Their marketing techniques range from PR and content marketing to paid media and beyond…but it could be argued that their marketing isn't the only reason why their business is expanding so quickly.
In the end, Xometry's martech is less instrumental to their growth in comparison to their over-all business model. They're learning from the digital age and altering the entire process of custom manufacturing altogether.
As buying habits and customer expectations shift, they're adapting accordingly. To them, making changes isn't an affront to how they do business. Serving customers to make things easy, fast, and high-quality is how they do business. Xometry's very existence started as a response to the new buying habits of consumers in the age of the internet.
"We are in the manufacturing space…but we are a tech company."
The truth is, marketing isn't the only thing manufacturers need to digitize. Their entire way of doing business may need to get rearranged in the days to come.
Is your company ready for that?
Thanks for reading. Don't forget to subscribe to our weekly newsletter to get every new episode, blog article, and content offer sent directly to your inbox. You can also subscribe wherever you download podcasts so you can listen on the go!
If there's a particular topic that you'd like for us to talk about, or if you have a particular a challenge that you'd like us to take a crack at, send us an email. We'd be happy to answer them for you – and if your topic gets picked for a future episode, you'll win a free IndustrialSage t-shirt!