A long-standing truth in sales is that people won't buy from you unless they know you, like you and trust you. Content marketing can help you on all three counts, making it the ideal complement to a sales-oriented manufacturing company.
You should know that my company, Winbound, specializes in content marketing. But we didn't just fall into this niche because we're prone to chasing whatever shiny new objects comes down the marketing pipe. 
No, we gravitated toward content marketing because the long-held belief that people won't buy from you unless they know you, like you and trust you is more relevant than ever before. And it requires marketing departments to think about more than trade pub ads and sell sheets.
Prospects don't like companies that just talk about themselves.
In the past, your budget was limited to messaging at the bottom of the funnel — when the customer was deciding on what product to buy. You ran ads in trade pubs and skipped the "know you" and "like you" stages, and hoped they trusted you enough to buy.
But now that you can publish on the Internet, you can reach further up the customer journey. You can create content that, as marketing guru Seth Godin says, focuses on "your customers' hopes, dreams and frustrations."  
Your content can talk about them, not yourself. And it should. It must. After all, no one likes people who only talk about themselves.
If you're creating content that talks about the customers, and if that content solves their problems without pushing your products on them (more on that in a second), they will get to know you and like you.  
Help them enough and they'll trust you and eventually buy from you.
How it fits in the customer journey:
The "know you, like you, trust you" sales model fits perfectly within the customer journey. The customer journey also mirrors the sales funnel. Here's what it looks like:
Getting to Know You: Top of the funnel helpful information
To illustrate how this works, let's say you are an aerospace parts manufacturer. You've just developed a new metal fabrication technique for airplane wings that reduces turbulence.  
At the beginning of the Customer Journey, many airplane manufacturers aren't aware of your new product, but they are dealing with issues of customer safety. They need to be kept aware of the big safety issues affecting their industry. 
So we produce a piece of content to get on their radar — to get them to know us. It's an article called "The Top 10 Airplane Safety Features for Nervous Fliers."
Note that it's not just our data we include in this piece of content. We also interview experts and quote outside sources, a process we call "content collaboration."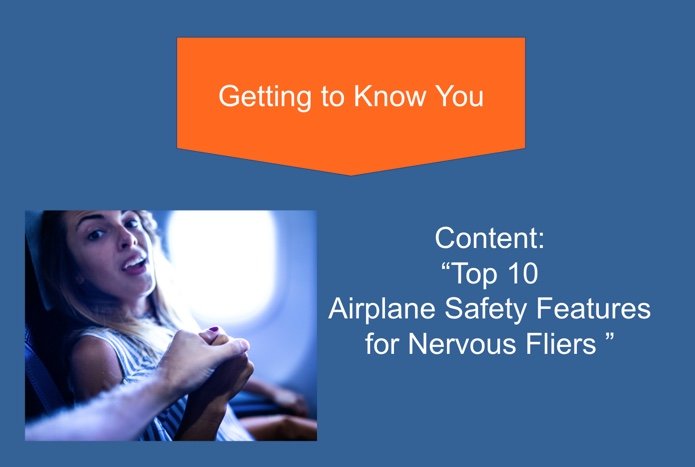 Starting to Like You: Tools to take action
Now that we've shared our post on safety features, we want to produce a piece of content that functions as a tool to help customers. We offer up this piece of content free in exchange for a prospect's email, which we add to our email list. 
Here are some examples of the types of downloadable tools that have proven effective for our clients:
A builder has an online design tool that you can use to design and download building plans.

A coating machine manufacturer produces a comparison chart for materials.

A printer shows a checklist for reducing printing costs.
Each of these types of tools help prospects relieve a pain point and answer a question. With our aerospace parts manufacturer, we're going to provide them with a cost-analysis spreadsheet for balancing safety improvements with pricing increases.
Willing to Trust You: Buying Stage
By this point, your customer knows you and they like you. You've helped them by doing a lot of fact-based research and you've also given them a helpful tool.
They're also on your mailing list, from when they either subscribed to your blog or downloaded your cost-analysis tool. Now you can send them monthly emails, in which you're sharing valuable content that continues to solve their problems. 
You also share links to your website and use the emails to announce your turbulence-reducing airplane wing. They visit your webpage, which is packed with:
Benefit-specific copy

Data that backs your marketing claims

Customer case studies and testimonials
Your call-to-action is to request a quote and set up a no-pressure discovery call on the part.  The customer, who knows you, likes you and is now willing to trust you, signs up.
How this drives your search engine optimization (SEO) and your social media strategies:
Content marketing is a term that doesn't get enough credit for the influence it has over all aspects of your marketing. Using the model above, here's how it influences SEO and social media strategy.
SEO:
Search engine optimization involves optimizing your website so it can be easily found by search engines AND so your content will rank high in search results.
A critical part of SEO is using the right keywords. Map your keywords to each of these segments of the customer journey, and you'll find it's easier to manage your keywords and designate content for critical words and phrases. 
For example, the Getting to Know you content will include "long-tail keywords" that you want to rank for around aviation safety. We would categorize that as "top of funnel" content and create a piece of content for it.
Social Media:
One of the top methods for gaining a wider audience for your content is through content collaboration. By using expert quotes and input, you can not only provide a more trustworthy piece of content, you also add a distribution point. 
Experts are typically happy to share content in which they're featured. For example, here I will quote content marketing master Andy Crestodina on the value of content collaboration. Andy is a big fan of the tactic, as he explains in this article, and notes:
I've included Andy's photo in this quote, which is a bit of what he calls "ego bait" (and is highly effective). I will share the link to this post with Andy, and ask him to share it on his social network, which is quite vast.  
I'll follow up with Andy and ask him to share it with his followers, thus expanding my reach. (Thanks Andy!)
(NOTE: Don't use this tactic cold. Build relationships with potential collaborators over time.  They need to know you, like you and trust you too!)
You can read more on content collaboration in my article "What Would the Dalai Lama do as a Content Marketer?"
Don't replace your sales team: Support them!
Reports of the death of the salesperson, Willy Loman aside, have been greatly exaggerated.
Salespeople, heck, people in general, are not to be short-sold in today's digital age. It's refreshing to talk to a person instead of a device. And while people are definitely doing more prequalifying online, they still reach out for a person on manufacturing sales.
If anything, by employing the Know You, Like You, Trust You maxim to your digital marketing efforts, you're applying a methodology that's worked in the sales world for years AND is one people want online as well. 
It's a nice way to combine the new normal with a tried-and-true approach. And it's the perfect transition for manufacturers who might be lagging with their online presence.
Winbound is a manufacturing marketing agency specializing in content marketing. We help manufacturers with small marketing teams overcome a lack of time and resources by delivering the kind of content that's been missing from their marketing. Winbound's in-depth content AND strategic approach integrates SEO, social and sales, all delivered in a package that matches the budget of a small marketing team.