Podcast: Play in new window | Download
Subscribe: Apple Podcasts | RSS | More
We digital marketers all hope to develop a well-crafted, customer-centric marketing plan. However, far too often, we start our process after the product is created and finalized. In reality, your marketing plans should really begin in partnership with your product developers. Industrial marketers should integrate marketing and product development to create something far more powerful and valuable.
In today's episode we're joined by Jon Gatrell – a Product Marketing, Product Manager, and Educator Extraordinaire – of Pragmatic Marketing. He came to help us better understand what a well-formed marketing framework looks like, and how digital marketers and product teams can feed off each other for successful product development and launches.
1. WHY YOU SHOULD INTEGRATE
The main trust of Pragmatic Marketing is, "Listen to your customer. They're the ones that buy your product." And second, "Have a framework and a plan that encompasses everyone." That unifying framework is key. You need to be careful that you don't mistake having a framework with having a process.
Lots of organizations know how to collaborate and hand off information… but over time as new resources come in, as you acquire other companies, as markets move…you need a common language.
"At Pragmatic Marketing, what we've developed is a framework to really kind of address those strategic activities of understanding your market. Understanding what management cares about all the way to the tactical delivery and execution."
Now, many organizations just want marketers to look busy. They assume that, "If we do enough stuff, magic will happen." But quantity is not the answer. "The key to marketing success is actually asking, 'What does Management care about?' "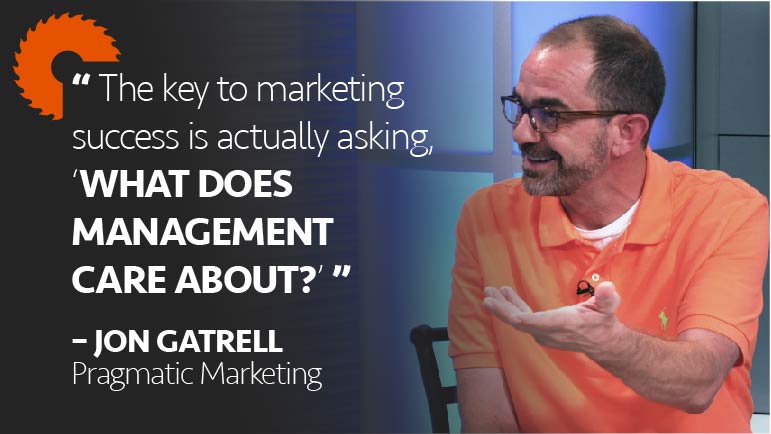 Is it revenue growth? Is it share? Because we can certainly all look busy and do a bunch of work and treat marketing like a checklist. Many of us already do so. We've sent the "What We've Done For You Lately" email before. That email is always list; not a form of communication
"Figure out what your market cares about. Put them together with a strategy."
"I often hear people say, 'What's our social media strategy? What's our digital strategy?' Stop. First, what's your business strategy?"
Only after you focus on your company's goals can you get into the right tactics, techniques, and channels. Because if you just do what you've always done that succeeded…well, it may not always succeed in the future. The market's always changing. You can try to recycle marketing campaigns mechanically like a machine, but the market will move and eventually break your machine.
2. WHY WE FEAR INTEGRATING
The truth is, a lot of B2B companies like that mechanical, reliable operation. "Let's just check the box off. Try not to rock the boat and capsize us with something new and untested." When you focus on the tactical activity, there's no risk. There's a feedback loop with instant gratification.
It's a major commitment to invest in a multi-year plan to build a new marketing infrastructure over multiple months. But that's what it takes to achieve actual goals.
Making a commitment is always intimidating and risky. But sometimes it's not the marketing department that's afraid of that commitment: sometimes it can be a very conservative management team. As a result, the marketers feel like they need to wait on management to change. However, as we discuss in the next podcast episode, that's not what they should be doing.
If you're the marketer, it is your responsibility to educate your management team on the statistics and the numbers and the direction your customers are taking the company.
"The two of the most scary things I've ever heard in my career are, 'We've always done it this way,' or, 'We did it before like that and it failed.' How often are we willing to go out and learn from the failures, rather than just be afraid of the next [ones]?"
Data and metrics and interviews and observation is how you get the context and the confidence to go to management and say, "Change is needed." Interviews with customers can be especially powerful.Product management or marketing rarely, if ever, ask customers what they want.
If you want to be confident in front of leadership when they say, "I don't think it will work that way," you say, "These nine customers said it will work that way. I think it might work." That will change their mind pretty quickly.
The transition to digital isn't about just reallocating previous skill sets to new things. It's about investing in and learning new skill sets, with new tools and new technology.
We fear committing to new and unknown techniques. However, the best response anyone can have is a willingness to say, "I want to learn." A person who's willing to learn can be a company's greatest asset.
3. PRAGMATIC MARKETING'S INTEGRATION MODEL
Pragmatic's business model is built on the idea of properly designing a growing organization, all the way from strategy to execution. Because yes, transitioning your marketing methods over to digital is important…but it's not going to solve all your challenges. You must first look inward at your own company's processes. Only then can you look outward to understand your market.
If you know why you're winning or losing business, then you've can take that data and turn it into a strategy to solve your customer's challenges. Your product shouldn't come before you identify those customer needs. First, ask yourself what problems your personas need solved. Then work backwards from there.
"When you start with the product, you're too late. Tell the product development team what your customers want and need. Then they can go build the product."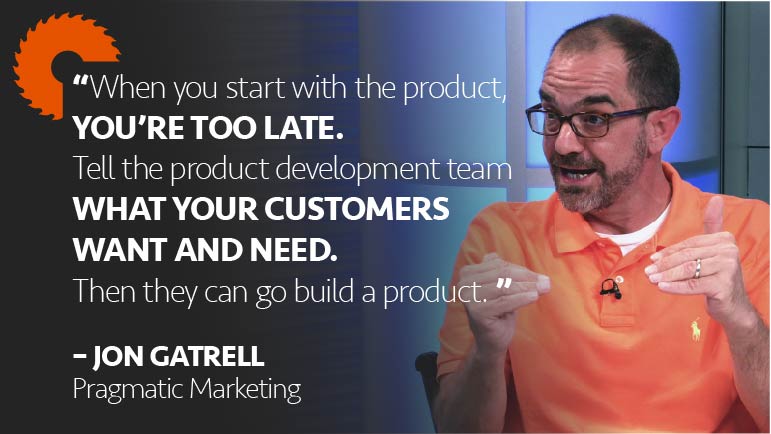 Don't just wait to get the product from the development team and then ask, "How can I apply this in a meaningful way to make money?" Actually get involved early-on in production. Integrate marketing and product development from the very beginning.
4. INTEGRATING EARLY
A lot of folks in the marketing space don't get involved with the process until execution, when product developers deliver something new and say, "Hey we built this thing. All you've got to do now is create some demand for it." They don't think they need to have consulted you about it. However, you need change the company view of you as a member of their team. You're not just a task manager: you're contributor to decisions.
One simple thing you can do to get involved with product development…is just to show up to their meetings.
Think about what your digital marketing team can do early on in the product-development process. Find ways to get involved, provide assistance, and show your value to their team.
"I just have a saying… I never want somebody use the term, 'Let me catch you up on it.' I want to have already known."
By getting involved early, you can have integrate marketing and product development until all the departments synchronize like clockwork. Then you avoid having the production team fling new products over the wall at your marketing department with the addendum, "Best of luck!"
So to recap…
Don't sit back and wait for your managers and your product developers to change. Even if they do change, there's no guarantee it will suit your needs.
Get involved with product development, and bring your data to the table. You're the one who learns what works and what doesn't. You're the one that gets feedback from the customers on what they want, and where the company may be falling short.
It's intimidating to make such a huge commitment and add more to-dos to your plate by joining in the product development meetings, but becoming a contributing member of that team will keep their products and your campaigns centralized around your business' mission.
Don't wait until a product is chucked at you by people who just assume, "It's cool," is enough of a reason for buyers to come running. If you integrate marketing and product development, not only will your customers thank you…but your campaigns and your strategies will actually become a whole lot easier, too.
Thanks for reading. You can find out more about Jon and his company at PragmaticMarketing.com; they've got lots of resources out there to help with launching products, innovating new ones, how to price them, and more.
Don't forget to subscribe to our newsletter to get each of our weekly episodes sent directly to your inbox. you can also subscribe wherever you download podcasts so you can listen on the go!
If there's a particular topic that you'd like for us to talk about, or if you have a particular a challenge that you'd like us to take a crack at, send us an email. We'd be happy to answer them for you.