Podcast: Play in new window | Download
Subscribe: Apple Podcasts | RSS | More
This week is a double-whammy! We're joined by both Andrew Dickson and Adam Bowling of ADP, who joined us to explain how digital tactics aren't just for clients.
Your marketing impacts human resources and new hires, too. And given the daily habits of the generations entering the workforce, you can't afford not to change.
1. A NEW KIND OF WORKFORCE
There are four primary factors to the major changes that most HR departments and new hires are experiencing in today's industrial world.
Political and Economic Conditions
The Digital Revolution
An Augmented Workforce (AI, etc.)
Changing Talent Demands
This is the first time in history that five different generations are side by side in the same workforce.
You read that right – Gen Z is in there, too! They're starting to graduate from high school and college now. (Scary, right?)
And if you thought Millennials were reliant on digital, just you wait.
Millennials learned analog when they were little, and technology evolved alongside them while they grew up…but Gen Z has known nothing but digital…specifically mobile. Even desktop computers are somewhat in the past for them.
"If you don't have the ability for candidates to apply for a job… via their mobile device… you're going to lose a lot of those candidates."
Is your company ready for that? If your hiring process still consists of paperwork-only or even desktop-only applications, you're going to lose a lot of opportunities. Since your marketing impacts your hiring process, that means your marketing impacts human resources.
2. THE NEW GIG ECONOMY
10,000 Baby Boomers per day are retiring. Gen X is half their size and unable to fill the gap, so Millennials and Gen Z are fast rising through the ranks.
This means you have to focus on appealing to employees of any age…and many of them want different things.
Of course, Millennials are fairly hard to pinpoint as a generation. However, they aren't just your employees: they're also consumers. That means they will compare your application process to their customer process with any and all other companies.
"Internally, the culture of the company ends up being externally the brand."
Whereas the majority of Baby Boomers and even Gen X-ers wanted a reliable 9-5 job that they could keep for decades until retirement…younger generations are breaking that mold.
Due to inflation and other economic/political factors like the 2008 market crash, the cost of living has risen sharply in the past two decades…but the average starting salary in any industry has barely changed. As a result, Millennials are driven to seek more income to pay their living expenses…let alone paying off the student loans they may have taken to afford a degree.
A part-time job used to be enough for many baby boomers to live on their own and pay for college at the same time. That's not remotely feasible for young adults anymore.
Now, younger generations are seeking out work as freelance contractors in addition to other part-time or even full-time jobs. Companies need to understand and adjust to this new rising "Gig Economy."
If you want to appeal to the new workforce, you need to evolve. If you don't, your competition will.
3. WHAT DO DIFFERENT GENERATIONS WANT?
Andrew referenced a fascinating (and very helpful) one-pager, called "Different Strokes for Different Folks," which helped clarify some of the ways that companies need to change for incoming workers.
For Boomers and much of Gen X, compensation was the most important factor of their employment. But for younger generations, it's less about compensation and more about benefits.
Salaries are always a major factor, but a single twenty-something or even a thirty-something in your workforce would probably opt for health insurance over life insurance, for example.
Millennials (many of whom have seen parents burn out from workaholism, for example) show increasing interest in work-life balance. A pension that will eventually pay for a hip replacement in their distant future means far less to them than a plan that will help them pay for new contacts or regular check-ups at the dentist now.
Ethical practice can also come into play, which is why some industries are said to be getting 'killed off' by younger generations.
Millennials and Gen Z are more likely to support or work for businesses that have eco-friendly practices or partnership with charities, for example. Major brands that are tainted by scandals around slave labor, deforestation, and financial corruption are less appealing employers to them, even if the pay might be more.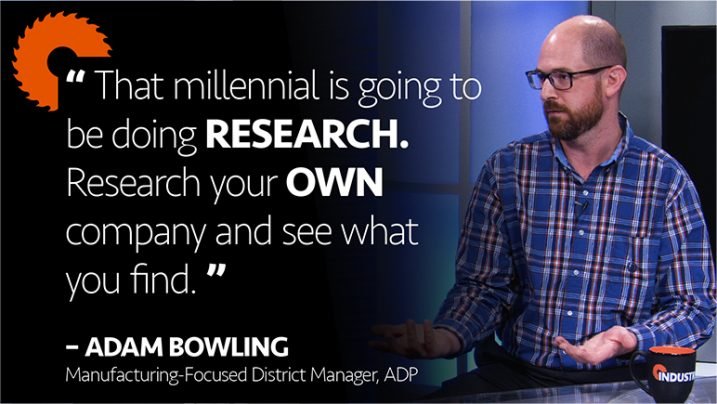 "That millennial is going to be doing research. Research on your own company and see what you find."
If your company has a meaningful core purpose and an engaging story, you're more likely to garner support than a business that only focuses on arguments pertaining to dollars and cents. That's one of the key ways that marketing impacts human resources for any company.
4. TRANSFER OF KNOWLEDGE
Another issue created by the age gap (Millennials rushing in to fill void left by Gen X) is that of labor and training.
Businesses tend to swap out solutions and technologies to adapt, but they can get so wrapped up in operations that they don't have a chance to step back and look at how this shifting process appears to newcomers.
"When you're looking at the onboarding experience [for a new hire]…that first experience is the brand, is the image of your company." – Andrew Dickson
Companies may find that promising career progression (like a certain job title to achieve) for newcomers can help them avoid decrease their turnover rate for workers on, say, a production line.
We encountered a similar philosophy at MODEX 2018 when discussing how the idea of "working with robots" is far more appealing than simply "warehouse management," as pointed out by Jason Walker of Waypoint Robotics.
Creating a mentor system – where soon-to-retire boomers can train new arrivals and build a relationship – is also an immensely appealing strategy for multiple generations.
Young employees who feel cared for, and older employees who feel recognized for their hard work, are more likely to have increased brand loyalty. If they know the company cares about them, then they're more likely to care about the company.
5. START WITH YOUR CUSTOMERS
If you're not sure how to appeal to new hires, go back to the drawing board and take a look at how you're trying to appeal to new customers.
The incoming generations who make up your buyers are also making up your new hires.
Your marketing department is (or at least should be) building buyer personas to identify how to reach younger generations. Use their already-created guidelines for your HR department, too.
Another great technique is to research your own company…online, with a phone.
Your new clients and new hires are trying to learn about you, first and foremost, online. Go take a look and see what's out there for them to find.
Every website gives you a feeling, just like a book cover. Is your company website more like a fifty-page manual? Does just looking at it make you feel stressed? Are materials easy to find there?
If your customers aren't enjoying their digital experience with you, your new hires probably aren't, either.
Is an employee's first day with you filled by a quick electronic form, then welcome videos…or by a pile of hard copy paper forms?
Whatever you're striving to change for your customers, be sure to change for your incoming workforce as well. Again: if your marketing is changing (which it should be), then your hr process needs to change along with it. Marketing impacts human resources whether we realize it or not.
"The onboarding experience for a new hire… is the brand, is the image of your company."
An audit of such practices can sound overwhelming, but fortunately that's exactly what companies like ADP exist to accomplish! They can benchmark your process and compare your brand to similar ones, in order to confirm whether you're on the right path with your hiring process.
Just remember: customers aren't your only evangelists out in the world.
A workforce that's engaged and excited is your best advocate.
Thanks for reading. Don't forget to subscribe to our newsletter to get each of our weekly episodes sent directly to your inbox. You can also subscribe wherever you download podcasts so you can listen on the go!
If there's a particular topic that you'd like for us to talk about, or if you have a particular a challenge that you'd like us to take a crack at, send us an email. We'd be happy to answer them for you – and if your topic gets picked for a future episode, you'll win a free IndustrialSage t-shirt!