Podcast: Play in new window | Download
Subscribe: Apple Podcasts | RSS | More
I know we say this every three months, but seriously: where did the time go? We're wrapping up the 2019 second quarter. That means the year's half-over!
The season started off with an absolute bang up in Chicago. We traveled all the way to the Windy City to attend Promat 2019, where we saw the latest in logistics & supply chain innovations.
APRIL
One of the most enlightening meetings at Promat was our chat with TJ Tweddle. We interviewed dozens of companies, large and small, the previous year at MODEX. However, not all of them used their free online videos to their fullest potential.
Despite being a brand new sale rep at a smaller booth, TJ shared and promoted his interview until his view count surpassed all our other MODEX interviewees for the year. He told us all about that simple video's impact when we reunited at Promat.
But the incredible insights of the 2019 second quarter didn't end there.
We talked about some of the top challenges faced by industrial CMOs with Shonodeep Modak of Schneider Electric (a totally small company).
Industrial CMOs are almost always two degrees away from their end users, and must sell through channel partners or other intermediaries. Shonodeep also has the added challenge of marketing what he calls a "ghost brand," – something that customer's can't really see or touch.
Working closely with distributors and carefully scaling their martech is key to Schneider's success in their B2B marketing.
MAY
After Shonodeep, we were privileged to meet with Sangram Vajre, who literally wrote the book on Account-Based Marketing.
Account-based marketing is all about a team-up between marketing and sales teams. Instead of their usual content, the marketers should ask their account executives about the top ten accounts they're trying to close. Then, the marketing department creates content specifically relevant to those ten potential buyers.
It's an impressive, sniper-like marketing tactic, all about going after your company's top prospects first.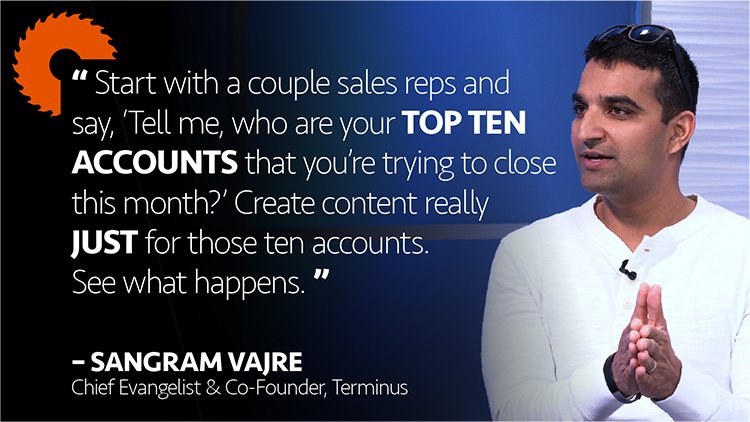 Next, Danny got to nerd out a little bit with a fellow aviation enthusiast: Eric Rojek, Vice President of Thrush Aircraft, Inc.
Thrush Aircraft is a Georgia-based manufacturer, but their distribution is worldwide. As such, they've developed a particular method of employing and educating local distributors to sell in their various markets. They've found that offering free training to prospects is one of the best sales tools at their disposal.
Our last interview in May represented what we know to be an all-too-common story for many B2B manufacturers. Eric Shumway of Circuitronix told us about his company's 'ah-ha moment' when they realized they needed to be investing more heavily in digital marketing.
Circuitronix is in a very traditional industry, but less and less of their buyers are picking up Thomas Guides when researching purchases. Instead, they're going online. Eric's company is roughly six months into the transition, but they're already seeing measurable results from their increase in digital tactics.
JUNE
Just before Father's Day, Danny Gonzales Sr. joined Danny Gonzales Jr. for a chat about the challenges of independent sales reps.
Danny Sr. is president of DMG Architectural Specialists LLC, and his performance often depends on his manufacturers.
Independent sales reps are only as good as the support they receive. B2B companies need to be as attentive to their sales reps as they want those reps to be with their customers. Relationships are key to that process, according to Danny Sr.
And for our final week of the 2019 second quarter, we had the privilege of meeting Miss Georgia 2018! Annie Jorgensen told us about spending her year as a titleholder promoting Georgia manufacturers. It wasn't necessarily glitz and glamour…but it certainly wasn't grit and grime either!
Thanks to the Georgia Manufacturing Alliance, Annie had a lot of opportunities. She toured multiple plants, like Kia, and loved sharing her stories of the creative minds there.
Our state also has a lot of incredible scholarships for students majoring in manufacturing. Annie was very passionate about spreading that good news to teenagers who didn't think they had a shot at a secondary education. Most of them had no idea. Since one of the number-one challenges faced by manufacturers is workforce development, Annie's work may have a major impact on Georgia in the years to come.
What's next?
Now, again…we say this every quarter. But dash it all, it's still true! The 2019 second quarter was pretty incredible, but we have even more mind-blowing interviews on the way!
You'll get to hear from a certain LinkedIn influencer who's gained thousands of followers in a single year. You'll sit back and marvel at the stories of a company whose sensors were part of the Apollo moon landing. And did we mention Hewlett-Packard?
Oh, yeah. Strap in, everyone. More sage marketing and sales advice is on the way.
Thanks for reading. Don't forget to subscribe to our weekly newsletter to get every new episode, blog article, and content offer sent directly to your inbox. You can also subscribe wherever you download podcasts so you can listen on the go!
If there's a particular topic that you'd like for us to talk about, or if you have a particular a challenge that you'd like us to take a crack at, send us an email. We'd be happy to answer them for you. And if your topic gets picked for a future episode, you'll win a free IndustrialSage t-shirt!