Podcast: Play in new window | Download
Subscribe: Apple Podcasts | RSS | More
It's that time of year again!
The smell of cappuccino machines, company-branded keychains, and vinyl banners is in the air. Announcements and invitations for trade shows are popping up left, right and center.
As you've heard us say before, video is one of the best tools you can have to bring crowds to your booth! But you may not realize just how powerful this asset can be.
If you're thinking about your next trade show video, try thinking outside the box…literally!
Today we're going to show you some examples of how to take a seemingly-simple item like video, and then blow away the competition.
1. START PRODUCTION WITH THE DESTINATION IN MIND
The key to a good trade show video…is making a video specifically designed for your booth.
So often at Optimum Productions we'll get requests from people who want one single video for their all their marketing needs – their website, and their sales meetings, and their email newsletters, and their trade show booths, and…that is actually a really bad idea.
Even if you're just re-vamping a video you already have, you need to make something that you know will work for a trade show.
Fortunately, we knew and prepared ahead of time to create a trade show version with them. If your video doesn't make sense while it's on mute, then it's not trade-show ready.
If the video doesn't make sense while it's on mute, then it's not trade-show ready.
Do not make an audio-reliant video for your booth.
Not everyone can hear your video's narration or dialogue, sometimes even if they're right in front of it. If they spot it from a distance will you be confusing them, or educating them?
2. YOUR SCREEN CAN BE ANY SIZE…
You don't have to be confined to the standard widescreen 16×9 television. In fact, that's a pretty boring sight to most people nowadays. We're no longer wowed by high definition: it is the industry standard.
But what if your video display is taller than a person? Or taller than three people standing on one another's shoulders!?
More and more companies are gaining attention by creating larger, taller video displays…again, having planned ahead so the videos would fit them properly.
4×3 stacked HD screens? Sure!

Ten screens stacked at a slant to create a full wall of footage? You betcha!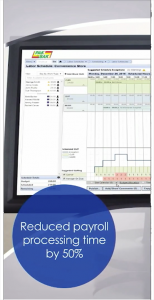 3. …OR SHAPE!
In fact, flatscreen TVs don't even have to be the end-all be-all.
Why not create a vertical video that will play on a pillar-sized screen, reaching from floor to ceiling?
What about creating a video that can appear on three separate screens, the middle of which is 40 feet in length? Imagine the goosebumps from watching that in a dark hall.
In fact, thanks to incredible companies like PixelFlex or Georgia-based Nanolumens, any shape is most definitely a possibility.
Companies are now able to manufacture a flexible LED material that can bend to any shape you want.
No joke!
Want a giant iPhone the size of a human being? Done!
Want a wristwatch big enough for Abe Lincoln's statue, covered in footage of your warehouse or factory floor? Go for it!
What about an archway that people can walk through, where every inch of the wall is actually a screen!? Yep, it's possible!
Welcome to the trade show booth of the future. It's a pretty great place to be, isn't it?
Now what will you go and make for your next trade show?
Thanks for reading. Don't forget to subscribe to our newsletter to get every new episode, blog article, and content offer sent directly to your inbox. You can also subscribe wherever you download podcasts so you can listen on the go!
If there's a particular topic that you'd like for us to talk about, or if you have a particular a challenge that you'd like us to take a crack at, send us an email. We'd be happy to answer them for you – and if your topic gets picked for a future episode, you'll win a free IndustrialSage t-shirt!