Podcast: Play in new window | Download
Subscribe: Apple Podcasts | RSS | More
What is PPC and why is it such a big digital marketing tactic?
"PPC" is short for "Pay-Per-Click" internet advertising.
It can occur on almost any website now, from YouTube to Facebook to banner ads.
It's a major part of protecting your company and your brand-specific terms.
It is a tactic to generate or nurture leads.
It can be lucrative if used properly…but costly if you don't know how to use it.
When pay-per-click first rolled out, it seemed almost magical. You set up a list of keywords, and voila! Clicks to your website.
Well, things have changed a little bit over the last few years, and it's not as easy as it used to be. PPC is way more competitive. Now you can spend a ton of money on it for merely mediocre results. It's no longer a set-it-and-forget-it type of tactic.
Today we're beginning a two-part episode series about pay-per-click. Our special guest and PPC expert is Lillie Beiting of CribMaster; a branch of Stanley Black & Decker. Lillie, who was previously in automotive, is now a digital marketing manager in vending solutions. She's here to share her experience and her process on PPC with us, as well as some tips and tricks on how to get the results that you're after.
1. WHAT COUNTS AS PPC NOW?
There's a ton of misinformation being spread about pay-per-click. It's not just keywords or search engine promotions now. In fact, it's honestly turned into a somewhat abstract concept.
In short, PPC is just a click –any click– that you pay for.
Facebook can be pay-per-click. Display can be pay-per-click. LinkedIn can be pay-per-click. Video can be pay-per-click. Arguably, even boosted content can be pay-per-click, too.
Pay-per-click is any medium in which you purchase Internet advertising.
People don't really recognize channels as much as they do anymore. For example, people don't tend to think of YouTube as a search engine…but it is one. Pre-roll ads are an example of pay-per-click for that particular medium.
2. HOW DO YOU USE PPC?
At bare minimum for a business, brand protection is the first way to use pay-per-click.
"In PPC, always, always, always protect your name; because if you have competitors, they're bidding on your name. That's the way of the world now, unfortunately."
"If you're buying keywords, Google would be a place you buy keywords. Bing, Yahoo… make sure that you're protecting your name there. 'CribMaster,' for example. We buy 'CribMaster.' That specific word. And then you want buy your own products too, so it tends to be a pretty cheap click if it's your own stuff."
So on the very surface level, if you do nothing else: use PPC to protect your names, your properties, and your intellectual content.
After that, the next level is "conquesting." That means going after your competitors and their keywords. However, while it is certainly a protective method for yourself, Lillie doesn't always recommend it.
"Conquesting is essentially buying somebody else's names or products. Be very careful about that, because if you don't do it right, you might as well just burn your money… You're wasting it, essentially, if you're not extremely targeted and careful."
B2B companies might not normally consider PPC a viable tactic for themselves. To them, it's a B2C tactic.…but PPC isn't exclusive to B2C companies. It's not unique to somebody looking up shoes on their phone. Pay-per-click is the way that the business world – including B2B – is heading.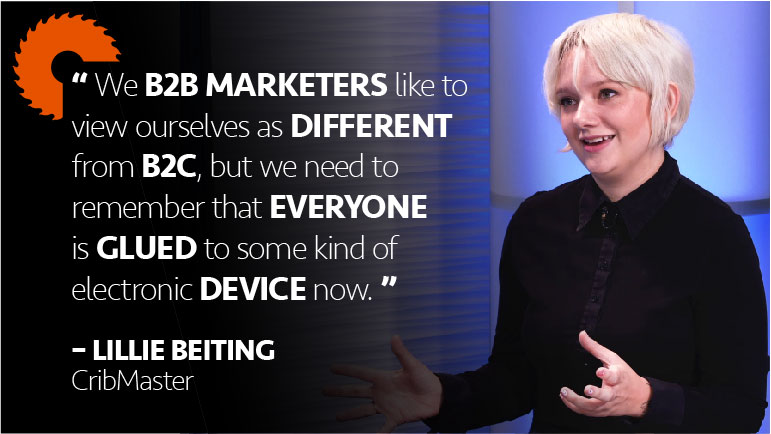 "We B2B marketers like to view ourselves as different from B2C, but we need to remember that everyone is glued to some kind of electronic device now."
Just like B2C customers, B2B decision-makers also tend to go through search engines. That may be Google, it may be YouTube, it may be anywhere online. Make sure that you're ready for that. You have to be prepared to have a very nurturing relationship, because a lot of B2B decisions take a long time.
So where B2B is concerned, pay-per-click means making sure that you're touching somebody at a regular point and nurturing them throughout the entire process.
3. KEY PPC TERMS TO KNOW
Different platforms have different key performance indicators, so it's important to be aware of their variety. An impression load in Facebook is a little bit different than an impression load in AdWords. That, in turn, is different than in DoubleClick, for example.
Lillie personally prefers to monitor impression-shares, which are specific to paid searches on engines Bing, Google, or Yahoo. They can tell you how much of the market you own.
Impressions are essentially how many times your ad show up, period. That doesn't include its ranking or its clicks – just its frequency of appearance.
Since there's usually more than one person or entity in the market, figuring out what percentage that you own is really valuable to understanding how people are interacting with your business.
Once you're aware of your impressions, you can take a look at click-through rates. CTRs signify how frequently people actually click your ads and ergo visit your site through them.
Knowing about your chosen medium can help you process the numbers on click-through rates. Generally AdWords (the little paid ads at the top of every Google search) have a higher CTR than Display ads. (Display ads are those little "digital billboards" that follow us around the internet.)
Then there are different CTR averages for pre-roll ads (the mini-commercials appear before our cat videos). On Facebook and other social media platforms there are business pages that you can pay for; but can also pay to boost the posts of your free business page. Each of these results in different CTR results.
Once you know your marketing goal for a a campaign, you'll be able to determine which KPIs to monitor.
If you just want to build awareness, you may care more about impressions for your campaign. If you really want to drive traffic to a landing page for a webinar or new product, the click-through rate will be more important.
Knowing the difference between these items will help you determine what campaigns to run and how much they might cost. On the AdWords side, you're always going to be paying for the clicks. Sometimes you may see what's called a CPM model, or "Cost-Per-Thousand," model. That may mean they'll charge you for every thousand impressions or click-throughs.
If you are someone who's product based, click-through rate is extremely important for you because you can very clearly trace when someone engages with your ad, and eventually converts to buy something. But at the same time, if you've got somebody who is a customer who has already been to your site, impressions may be more valuable there. You can cookie that visitor and keep serving them that ad.
"Sometimes PPC is important to see how often your ad hits an existing customer. Maybe you've hit them too much. That can happen."
"Make sure you identify what you care about before you take a look at these metrics, because there's tons of numbers, and they all kind of click together with each other, and understanding how they work is very critical to seeing what's profitable for you."
Cookies essentially allow for re-targeting. Google accounts can identify individual people on the internet and help track them. This is useful for any companies the individuals might be subscribed to. Once you have people identified with cookies, then you can divide them by demographic and figure out what your current prospects really look like.
So, to recap…
PPC has definitely changed since it first appeared, and now it is anything but simple. But if you know what falls under it as a category, and if you start to understand the terms around it, that may give you a brief bird's eye view of how to use PPC. Then you can figure out where to go from there.
In our next episode, we're going to jump into the more technical side of pay-per-click. We'll talk about the process, different use-cases on how you might want to use it, and how to really set up the framework and get some results. Stay tuned, Sages.
Thanks for reading. Don't forget to subscribe to our newsletter to get each of our weekly episodes sent directly to your inbox; or subscribe wherever you download podcasts so you can listen on the go! If there's a particular topic that you'd like for us to talk about, or if you have a particular a challenge that you'd like us to take a crack at, send us an email. We'd be happy to answer them for you.