Case studies serve as social proof for B2B companies. But they're also time-consuming and challenging to create. If you're going to write case studies (and you should), here are six essential elements.
Case studies don't get the credit they're due. In fact, they just might be the most important piece of content for B2B marketers.
Survey results from Demand Gen Report have shown that 78% of companies use case studies to research B2B purchasing decisions, which was more than any other type of content.   
And when compared with other sales content, DocSend found that case studies showed an 83% completion rate, an average that left all other content in the dust. (Completion rate = number of people who read to the end.)
Okay, yes, they're mission critical. So let's dive into six key elements each case study must include.
Element #1. Use a headline that highlights a qualitative or quantitative goal you helped a client achieve
There's no time to waste in a case study – and no reason to hold out for a dramatic finish. That's why a compelling headline, one that's specific and powerful enough to motivate people to read on, is so critical. Consider the following ways that can be accomplished.
Metrics integrated into the headline. If the case study has impressive quantified results, they should be put front and center, not buried at the end. Sure, you can share them in the "results" section of your case study, too. Just don't assume everyone will read that far. 
Example: Thysse used the "3X" number to showcase increased productivity from a client.
A relevant detail when metrics aren't possible. Satisfied clients don't always have metrics available to share. If that's the case, a specific detail can deliver impact in the headline.  
Just make sure it really is specific. That means going beyond saying your company helped a client "be successful" or "be more effective." 
Example: Delta ModTech used this case study headline to convey a specific – and industry-relevant – detail of how the company helps their client.

Pro tip: Use formulas to help create an effective headline. It can be tricky to articulate the headline details succinctly. If you need help, you may want to set up basic phrase structures, plug in the details, and see what works. Here are four formats courtesy of case study guru Joel Klettke. 
How [service/company] helped [client] [result]

[Result] for [client]

[Client] gets [result] with [service]

How [client] eliminated [pain] with [service]
Element #2. Include charts and graphics to tell a more convincing story
Effective case studies leverage the power of images, especially the type of graphics you'd see in a PowerPoint presentation to a CEO or to a group of potential investors.
Example: Check out how the SEO company BrightEdge uses the following two charts to vividly illustrate a manufacturing client's increases in organic rankings and keywords. Even without accompanying text, the graphics deliver an immediate message of improvement. 
Next, here's how HubSpot presents impressive data textually in a simple but bold visual format:
And if you have a physical product to show that can illustrate your point, by all means include it. Rocket Industrial shows the plastic corrugated container they designed to improve a client's packaging.
Element #3. Capture your client's voice
Andy Crestodina of Orbit Media has said it best (and I'm paraphrasing): If you say it, it's marketing. If your customer says it, it's social proof.
That's why the hallmark of effective case studies is enabling the client's own words to tell the story as much as possible. 
Example: Note how Robots and Pencils (R&P) lets the client's quotes do the heavy lifting in this case study.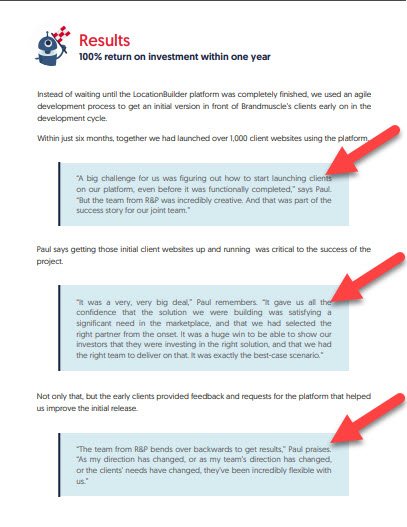 And check out this quote from a manufacturing client about us. It's real dialogue, not a polished piece of prose. That's why it works.
It also illustrates how you can take select client quotes a step further. Here we used a block quote plus a photo to add authenticity. 
Element #4. Keep it short and sweet for the skimmers
This holds true for any type of content, but particularly for case studies. Sure, they're interesting reads — but only if it doesn't take long to read them. So write for the skimmers.
We like the Challenge, Solution, Results format because it's predictable and you get what you came for — quickly. Beyond that, keep paragraphs one to three lines in length, and use pull quotes and bullet points to help tell your story.
Example: In the following from Looop, you not only see how the client's quotes move the story along effectively (addressed above), you also see how short paragraphs (often one line!) and bullets keep the case study reader-friendly.
Element #5. Leverage the power of video and audio
There's just something about that play button. When tweets have video, they're six times more likely to get retweeted. 
And with case study videos, viewers can get a powerful glimpse of a satisfied customer's insights. These videos can also create an emotional appeal through music and deliver informative B-roll that shows the product or result in action. 
Example: The high-speed demands of a Carlsberg beer canning factory – and the laser coding solution that Domino Printing provided – are on dramatic display in this video case study. You can watch the full video or get a strong sense of the story from the video stills further below.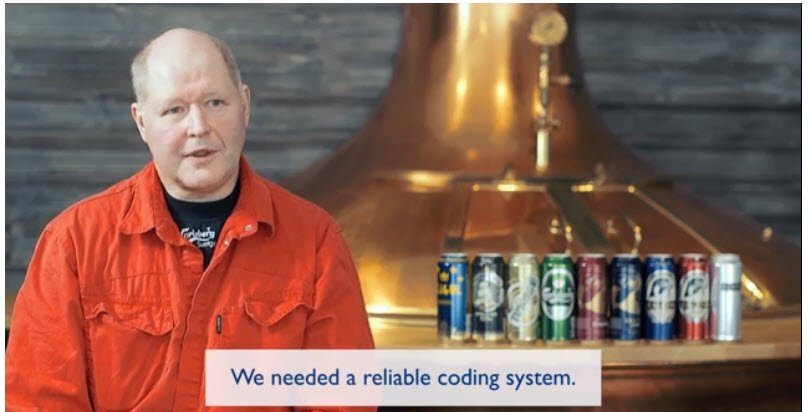 Element #6. Craft a story-specific call to action
The best case studies culminate with a CTA that actually relates to the story just told – rather than a generic and unconvincing "contact us for more information" kind of message.
Example: Here's a CTA that's specific and powerful from Rankings.io.
Get excited about creating your next case study
To the right audience, a well-crafted case study – with compelling components like the ones above – serves as strong evidence for a company to make the next move and contact you. 
Hopefully, the above tips and examples have you excited to do your next case study.
And you really should be excited. Case studies are possibly the most overlooked yet most valuable type of content you can produce! 
For more information on case studies, check out How to Write a Marketing Case Study: A Guide for Creating the Ultimate B2B Social Proof.