Podcast: Play in new window | Download
Subscribe: Apple Podcasts | RSS | More
So often your marketing department feels pressure from the outside world to, "Innovate or die," and transition to digital strategies… but you can't seem to get your stubborn management team on board with the times. Well, our professional opinion on solving the problem may not be what you think.
"It's not your manager's job to change. It's your job to prove digital and content marketing's value to the company."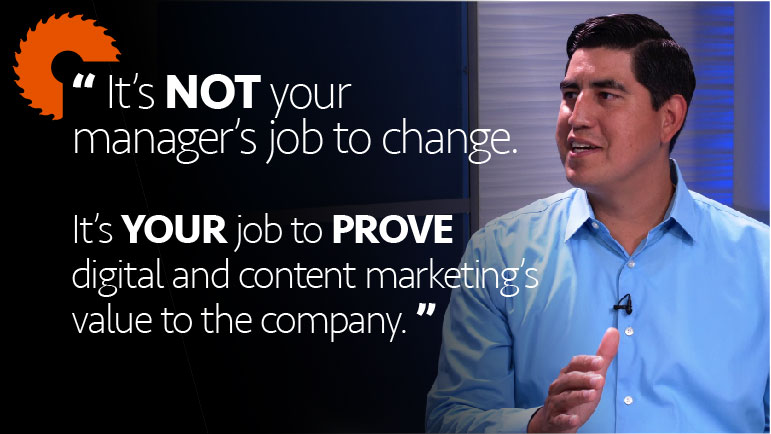 Of course people are going to resist change, especially when it comes to spending money. So how does any other department get permission to invest in a new chunk of machinery or equipment? They treat the purchase like any other business process.
It's not your management team's job to change. It's your job to prove digital marketing's value to them.
1. DO YOUR RESEARCH.
We've mentioned that digital is vital to your company because your competition is already pursuing it. And that certainly is a compelling argument… but there are more numbers and proofs available to you that will look and sound much more convincing. The last thing you want to do is show up and then stumble when your manager starts asking questions that you didn't investigate.
Figure out what you need; and prepare an entire presentation to prove digital marketing's value with tangible data.
Crunch the numbers – and also find other success stories that are relevant to your proposal. (Notice we said "relevant" and not "similar." Your plan as a B2B industrial manufacturer should not necessarily be modeled after the strategy of a viral Skittles® commercial.)
2. MAKE A PLAN.
As we've said before, know who you're selling to. Know who your competitors are and what they're doing. Additionally, know how each asset that you generate will eventually pay off – and "asset" is a key word there.
"Marketing should always be an asset to your company; not just an expense."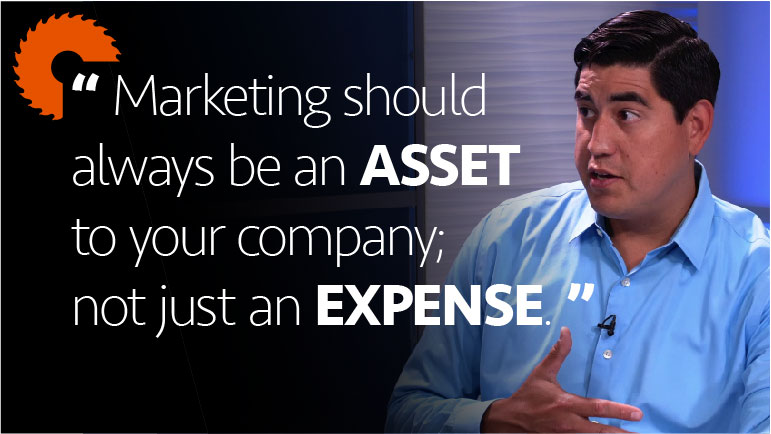 Researching the numbers and creating a strategy may feel like a big task, especially since you're not sure whether your boss will buy into it just yet. But if digital marketing techniques can at least show bad results as opposed to no results, then they're already ahead of traditional marketing. A magazine ad can't tell you for certain how many people you actually reached. It's like Schrodinger's cat; you can't really tell whether you failed or succeeded there.
Some [negative] feedback will always be better than no feedback.
"If digital techniques can at least show bad results as opposed to no results, then they're already ahead of traditional marketing methods."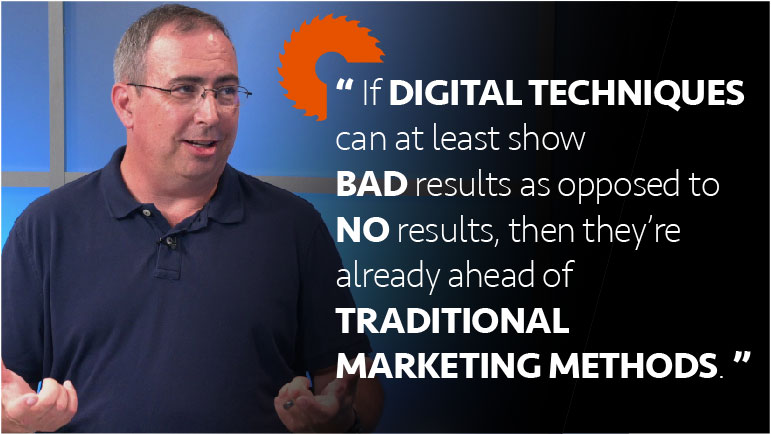 Getting data on success rates can show you what to avoid in order to adjust and grow. It will show you whether you actually had a win! And that's another thing…
3. DEFINE A WIN.
The last thing you want is to show your boss how successful your campaign was, only for them to counter with, "I don't quite see how that's a good result. Is that really what we were hoping for?" How terrible would that be. But it's known to happen. So make sure it doesn't happen to you.
"Choose your goals ahead of time, so you and your boss agree what a win will look like."
Bringing the numbers to your management team before starting your first campaign is important, because it gives them more perspective and something with which to compare your future results. And when you do finally bring them the results, don't just end the presentation with, "So that's how that campaign went. The end."
You'd better have a prepared answer to the question, "Great! Now what?"
Staying one step ahead is huge. As results from your content start pouring in (or even before), start shaping your plans for the next stage of your marketing process. Are you going to start a new campaign? Extend this one to other mediums? Drop one medium that hasn't been performing in order to redirect assets to a better one? Have everything planned out for your management team so their meetings with you may only require them to say, "That looks like a sound investment plan. You do that."
Thanks for reading. Don't forget to subscribe to our newsletter to get each of our weekly episodes sent directly to your inbox; or subscribe wherever you download podcasts so you can listen on the go! If there's a particular topic that you'd like for us to talk about, or if you have a particular a challenge that you'd like us to take a crack at, send us an email. We'd be happy to answer them for you.